HOURS
We're open M, W and F: 10-5.
CALL, TEXT, or EMAIL
For service, you can call or text at (608-719-9094), or you can email for service at StoughtonApplianceRepair@Gmail.com ,or use the form below.
We schedule service M, W & F at 10:00, 12:00, 2:00 and 4:00.  Let us know what time you'd like.
Stoughton Appliance Repair
556 Taylor Ln
Stoughton, WI 53589
It's a Great Day in Stoughton!
Email

BEFORE CALLING FOR SERVICE
For the fastest service, have this information ready!
Brand Name
Frigidaire, Kenmore, Whirlpool, LG, Samsung, etc.
It's important this be accurate, don't guess.
Appliance Type
Washer, dryer, refrigerator, oven, etc.
Detailed Complaint
Be as specific as possible, "not working right" will not be sufficient.
Have the person most familiar with the problem place the call for service.
Observations
When exactly is the problem is occurring? Washer is noisy in spin. the fridge makes clicking noise in the freezer, the dryer doesn't advanced on timed dry.
Model and Serial Number
Required with modern appliances.
MODEL NUMBERS
Model numbers are key! We can't do anything without them. Appliances are always changing. Manufacturers run short production lines and put competitors names on their own products constantly. The days of a top load Kenmore washer having any meaningful connotation are long gone. Model number is key. Have your model number ready, and be ready to text or email a picture, for the fastest service.
Check for model numbers around doors and near controls.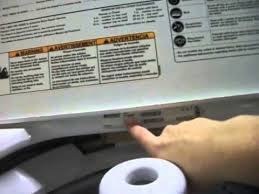 The following factory links show where to find your model number.
Amana
Bosch
Dacor (pdf)
Electrolux
Fisher Paykel (pdf)
Frigidaire
General Electric (GE)
Hotpoint
KitchenAide
LG
Maytag
Samsung
Viking
Whirlpool
Wolf/Sub-Zero